Bluetooth is a short-range wireless communications technology used to communicate between devices over a distance of about 25 feet.
To connect to a Bluetooth device, you must turn on your phone's Bluetooth radio. The first time you use a new Bluetooth device, you must pair it with the one you want to connect. Then both devices should know how to connect each other securely. After that, they will connect automatically.
Touch "Settings"
Touch "Bluetooth"
Switch to "On" position for searching the device
Touch the device that you want to pair with.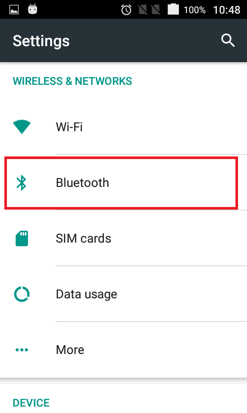 You can also turn on Bluetooth from the Quick settings. Touch the indicator icon area and drag it downwards with two fingers. You can turn Bluetooth on or off.